Back
Elidagasse 26 - Top 2/8
2-room attic apartment with terrace area - PROVISION FREE!
Key data
| | |
| --- | --- |
| Address | Elidagasse 26 - 1220 Vienna |
| Apartment # | 8 |
| Staircase | 2 |
| Floor | 1. Attic floor |
| Rooms | 2 |
| Type of use | For sale |
| Year of construction | 2021 |
| Condition | First-time use |
| Property number | 17715 |
Energy certificate
| | |
| --- | --- |
| HER* | 44.00 kWh/m² per year |
| Energy performance | 0.70 |
| Valid until | 29/09/2031 |
*Heating energy requirement
Costs
| | |
| --- | --- |
| Purchase price | € 435,000.00 |
| Land register entry | 1.10 % |
| Property transfer tax | 3.50 % |
Spaces
| | |
| --- | --- |
| Living space | 47.36 m² |
| Usable floor space | 73.1 m² |
| Balcony area | 6 m² |
| Terrace space | 18.74 m² |
Furnishings
open kitchen
tiles
parquet
underfloor heating
air source heat pump
passenger elevator
basement garage
digital connection
storage room
bricks & concrete
turnkey with foundation
Request description of the property
We look forward to hearing from you!
Please fill in this contact form. We will then send you a description of this property as soon as possible by email.
Description of property
The exceptionally designed residential complex is located in one of Vienna's most beautiful recreational areas - in Kaisermühlen on the Old Danube, opposite the historic Gänsehäufel lido with a view of the Vienna skyline. The ensemble near the UNO-City convinces with its coherent as well as atmospheric living ambience: In two elegant, L-shaped buildings, 18 new condominiums with a very special flair are being built on the building rights of Klosterneuburg Abbey - modern oriels, green pitched roofs and idyllic arcades as well as private gardens, terraces or balconies will make the hearts of nature-loving city dwellers beat faster, who would like to be at Vienna's St. Stephen's Cathedral in 25 minutes by public transport.
High-end apartments with private balcony, garden or terrace
Natural wood floors made of brushed oak
Tiling in bathrooms and WCs made of the best porcelain stoneware
washbasins, WCs and fittings from high-quality brand producers
Environmentally friendly air-source heat pump for a pleasant indoor climate at any time of the year
barrier-free elevator in both parts of the building including elevator call button in each apartment
WK3 security doors
electric sun protection
parking space with Comfort Parking
own cellar compartment with sufficient storage space
spacious stroller, bicycle and e-scooter storage rooms
The project will be built on a building lease land. The lease runs for 99 years and will be charged monthly through the operating costs, for details please refer to the enclosures (exposé). The apartments can be purchased as an investor (investor price) or owner-occupier.

Equipment
lle of our spacious 2- or 3-room apartments are equipped with noble and durable interior: Natural wood floors made of brushed oak, elegant bathrooms made of the best porcelain stoneware and brand fittings, electric sun protection or a separate elevator call button in each apartment for the barrier-free elevator in the building are just some of the amenities with which your new condominium will inspire you. It might even be possible to combine two apartments should you need more living space.
Gardening fans can watch their flowers, herbs and shrubs grow and bloom in a first floor apartment with a terrace or private garden. Those who prefer an urban lounge feeling can enjoy the sunset on the balconies and terraces of the apartments on the top and top floors.
Because the environment and climate protection are close to our hearts, we rely on environmentally friendly air-source heat pumps for pleasant room temperatures in summer and cozy warmth in winter. Power is supplied via the Wien Energie grid.
So close to Vienna's city center by streetcar or bus, you don't really need a car. But if you don't want to do without your own four wheels, you can look forward to the in-house garage in the basement with nine parking spaces plus the patented Comfort Parking System. And of course there is enough space for the environmentally friendly two-wheelers: 40m² for bicycles and 30m² for scooters.

Location
Living in a natural paradise - our exclusive new apartments are in a premium location for all those who love nature and value varied leisure activities by the water. And there is plenty of it at the Alte Donau: the water surface of this idyllic recreation area alone is equivalent to about 200 soccer fields.
The LIFE+ Alte Donau project has contributed to the reestablishment of rare animal and plant species in the water and on land.
The seasons are also wonderful to experience: Fog and sunshine exude their very own charm here. Numerous gastronomic establishments such as the Strandcafé and the Bootshaus ensure relaxation and the best culinary delights in the immediate vicinity of our condominiums.
Optimal transport links (bus, Bim, subway, road) keep the distances to Vienna's largest shopping and entertainment center, the DZ-Donauzentrum, to the Vienna International Center or to the nearest discount store short.
Schools, kindergartens, post office, doctors and pharmacy in the immediate vicinity make life easy. Everything you need for modern living is less than a few hundred meters away.
Top 8 Staircase 2
In idyllic surroundings on the Old Danube in the Elidagasse 26 seduces this condominium with 47 m² of living space on the top floor and a balcony / terrace. Equipped with impressive quality and exquisite taste, the apartment is divided as follows:
Anteroom
Kitchen-living room
bedroom
Bathroom with shower
Separate WC
Balcony/terrace

The indicated selling price € 435.000,- is the net provision price. Optionally, a garage space can be purchased for € 32,000.
The price of the apartment for owner occupation is € 465.000,-. Optionally a garage space can be acquired for € 35.000,-.
Service charges
There is a close economic relationship to the seller.
The contract execution and escrow is bound to the law firm PAJEK Rechtsanwalts GmbH A-1010 Vienna, Plankengasse 7/2/27.
This text has been translated automatically. No liability is assumed for the accuracy and completeness of the translation. Changes and typographical errors reserved.
Your contact
Our real estate experts would be happy to advise you.
We look forward to hearing from you!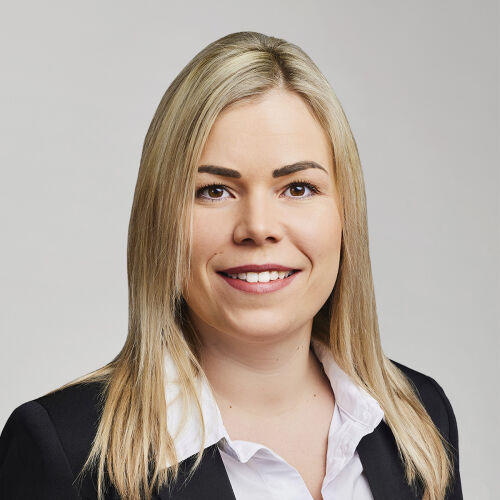 Contact
We look forward to hearing from you!
Your inquiry relates to the following property: Elidagasse 26 - 1220 Vienna - Top 2/8
Information on commission fees: For the sake of good order, we note that a commission must be paid to 3SI Makler GmbH in the case of a successful transaction in the amount previously specified. The amount of commission is consistent with the provisions of the current Ordinance of the Federal Minister for Economic Affairs on the Professional Ethics and Rules of Practice for Real Estate Agents. The obligation to pay the commission shall also exist if you pass on the information provided to you to third parties. Finally, we would like to point out that we are acting as dual brokers and that there is a close familial or economic relationship between 3SI Makler GmbH and the seller.