Modern living near the Old Danube (Fahrbachgasse 6-8)
Key data
| | |
| --- | --- |
| Address | 1210 Vienna |
| Apartment # | 13 |
| Staircase | 1 |
| Floor | 2. floor |
| Rooms | 2 |
| Orientation | SO |
| Type of use | For sale |
| Available from | Q4/2024 |
| Year of construction | 2023 |
| Condition | First-time use |
| Property number | 13539 |
Energy certificate
| | |
| --- | --- |
| HER* | 22.80 kWh/m² per year |
| Energy performance | 0.71 |
| Valid until | 03/04/2031 |
*Heating energy requirement
Costs
| | |
| --- | --- |
| Purchase price | € 328,700.00 |
| Land register entry | 1.10 % |
| Property transfer tax | 3.50 % |
| Commission | 3% of the purchase price plus 20% VAT. |
Spaces
| | |
| --- | --- |
| Living space | 46.25 m² |
| Balcony area | 4 m² |
| Cellar space | 2.61 m² |
Furnishings
bathtub
prefinished flooring
tiles
district heating
underfloor heating
district heating
passenger elevator
balcony/terrace facing south
barrier-free
turnkey with basement
Request description of the property
We look forward to hearing from you!
Please fill in this contact form. We will then send you a description of this property as soon as possible by email.
Description of property
THE PROJECT
Just a few steps away from the Danube, modern condominiums with high-quality fittings, flexible floor plans and generous open spaces promise a sustainable quality of life in beautiful Floridsdorf. Those who enjoy spending their leisure time in the countryside or by the water can reach the idyllic banks of the Old
Danube or the Danube Island recreation area in no time at all. Those who are drawn to the city can reach the center of Vienna in just 15 minutes thanks to the excellent public transport connections.

Almost all 40 condominiums on staircase 1 and 52 condominiums on staircase 2 have attractive open spaces such as balconies, loggias, terraces or private gardens. Above the apartments on the first floor with beautiful private gardens, cleverly designed residential units with 1 to 4 rooms each and sizes ranging from approx. 35 to 135 m² are being built on 4 upper floors. The apartments offer either a street-side or courtyard view and an outdoor area in the form of a balcony, loggia or terrace. The crowning glory is formed by 2 attractive top floor levels, these apartments offer terraces or private roof terraces and a beautiful view.
Completion ready for occupancy is expected in Q4 2024.
These high-quality condominiums are suitable for both singles and families who appreciate a quiet location yet with subway access.
More information at: www.fahrbachgasse6-8.at
HIGHLIGHTS
92 condominiums spread over 2 floors and 1 commercial unit (43m²)
1 to 4 rooms
Living space from approx. 35 to 135 m2
Balconies, loggias, terraces or private gardens
2 minutes' walk to Floridsdorf station (U6, suburban trains, streetcars, buses)
41 underground parking spaces and 2 motorcycle parking spaces (e-mobility)
Bicycle and baby carriage rooms
Common room with garden area for all residents
Energy class A (HWB 22.8/m2a, fGEE 0.71)
District heating / photovoltaics (underfloor heating)
Ideal for owner-occupiers and investors
FIRST-CLASS FURNISHINGS
Oak parquet floors from Austria
Brand name sanitary products
External electric sun protection
Air conditioning in the DG
Parcel box system combined with mailbox system
Digital notice board
Digital intercom system via app
Smart property management app "puck"
DRAWING UP CONTRACTS
The law firm Pressl & Feitsch in 1030 Vienna, Hetzgasse 45, has been commissioned with the establishment of condominium ownership, drawing up the purchase contract, fiduciary handling and execution in the land register. The total costs for the above services amount to 1.5% plus VAT. In addition, there are certification costs for the signatures.
This property is offered for sale without obligation and subject to confirmation. The above details are based on information and documents provided by the owner and are without guarantee on our part. The general terms and conditions and the ordinance for real estate agents of the Federal Ministry of Trade, Commerce and Industry, BGBL. 297/1996 apply as the brokerage fee. In the event that a corresponding legal transaction is concluded in this regard, we will charge you a brokerage commission of 3 percent of the purchase price plus statutory VAT.We would also like to point out that we have a close economic relationship with the seller.
This text has been translated automatically. No liability is assumed for the accuracy and completeness of the translation. Changes and typographical errors reserved.
Your contact
Our real estate experts would be happy to advise you.
We look forward to hearing from you!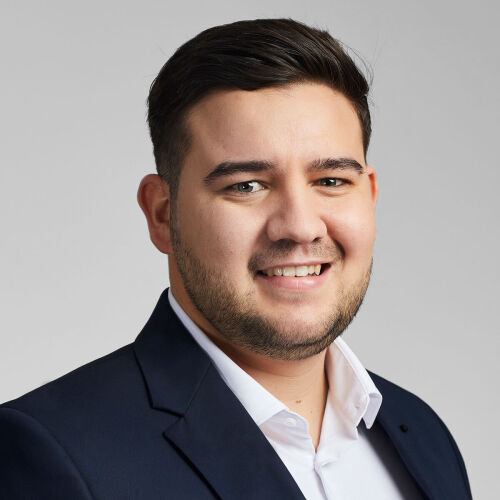 Contact
We look forward to hearing from you!
Your inquiry relates to the following property: 1210 Vienna - Top 1/13
Information on commission fees: For the sake of good order, we note that a commission must be paid to 3SI Makler GmbH in the case of a successful transaction in the amount previously specified. The amount of commission is consistent with the provisions of the current Ordinance of the Federal Minister for Economic Affairs on the Professional Ethics and Rules of Practice for Real Estate Agents. The obligation to pay the commission shall also exist if you pass on the information provided to you to third parties. Finally, we would like to point out that we are acting as dual brokers and that there is a close familial or economic relationship between 3SI Makler GmbH and the seller.