Back
Widerhofergasse 8 - Top 2/17
Imperial Living - Exceptional and large top floor apartments on one level in a sought-after location!
Key data
| | |
| --- | --- |
| Address | Widerhofergasse 8 - 1090 Vienna |
| Apartment # | 17 |
| Staircase | 2 |
| Floor | 1. Attic floor |
| Rooms | 4 |
| Orientation | SOW |
| Type of use | For rent |
| Available from | sofort |
| Year of construction | 1900 |
| Property number | 18496 |
Costs
| | |
| --- | --- |
| Total rent | € 5,254.65 |
| Rent | € 4,500.00 |
| Running costs | € 276.95 |
| VAT | € 477.70 |
| Monthly total rent | € 5,254.65 |
| Commission | In accordance with the first-party principle, the sender pays the commission. |
Spaces
| | |
| --- | --- |
| Living space | 181.6 m² |
| Usable floor space | 193.24 m² |
| Terrace space | 11.64 m² |
Furnishings
bathroom with window
bathtub
fitted kitchen
tiles
parquet
radiator
gas
passenger elevator
parking (duplex garage)
balcony/terrace facing west
hydraulic ramp
Request description of the property
We look forward to hearing from you!
Please fill in this contact form. We will then send you a description of this property as soon as possible by email.
Description of property
Staircase 2 - Top 17
This wonderfully divided top floor apartment with a size of just under 182 m² plus an approximately 12 m² terrace, is located on one level.
The layout is as follows:
Anteroom
WC
Kitchen with dining area
laundry room
spacious living room
terrace
3 bedrooms
2 bathrooms with tub & toilet
storage room/closet
The attic has been converted from a few years, the apartment is in very good condition and has the following features:
Air conditioning
kitchen
parquet floor
fully equipped bathroom
external shading
Note in accordance with the Energy Performance Certificate Act: An energy performance certificate has not yet been submitted by the owner or seller, after we have informed them of the generally applicable obligation to submit the certificate and have requested that it be prepared. Therefore, at least an overall energy efficiency corresponding to the age and type of building is considered agreed. We do not assume any warranty or liability for the actual energy efficiency of the offered property.
The real estate agent declares that - contrary to the customary business practice of the dual agent in the real estate industry - he acts unilaterally only for the landlord.
This text has been translated automatically. No liability is assumed for the accuracy and completeness of the translation. Changes and typographical errors reserved.
Your contact
Our real estate experts would be happy to advise you.
We look forward to hearing from you!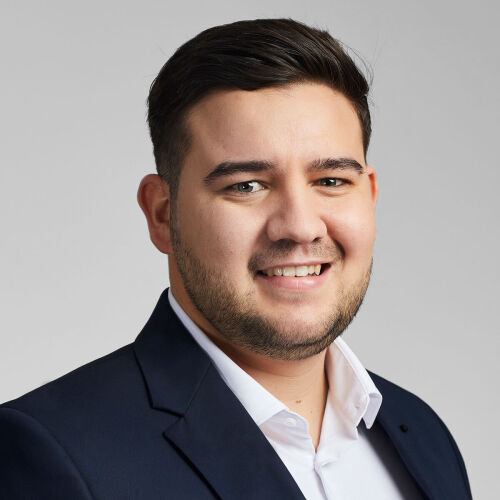 Contact
We look forward to hearing from you!
Your inquiry relates to the following property: Widerhofergasse 8 - 1090 Vienna - Top 2/17
Information on commission fees: For the sake of good order, we note that a commission must be paid to 3SI Makler GmbH in the case of a successful transaction in the amount previously specified. The amount of commission is consistent with the provisions of the current Ordinance of the Federal Minister for Economic Affairs on the Professional Ethics and Rules of Practice for Real Estate Agents. The obligation to pay the commission shall also exist if you pass on the information provided to you to third parties. Finally, we would like to point out that we are acting as dual brokers and that there is a close familial or economic relationship between 3SI Makler GmbH and the landlady.